AUSTRALIAN MOTIVE POWER REVIEW
No.2
INDEX PAGE

Welcome to the second issue of Australian Motive Power Review, the bimonthly ezine designed to bring you the latest news and photos from the constantly changing Australian railway scene.
If you were with us for the first edition we hope you will see an improvement in quality and presentation in this issue. This is a learning experience for both of us so we can guarantee that there will be improvements each time we launch another issue into cyberspace.
As with all magazines, regardless of the form they may take, we are always looking for contributions, both written and photographic so if you want to see your name up on the Internet email either Brad Peadon or Stuart Livesey.
---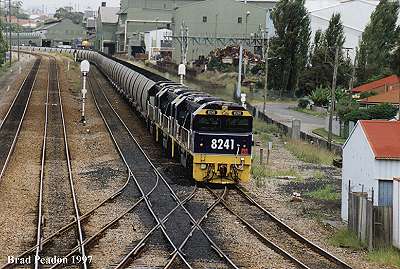 8241/8256/8239 with an up coal train at Waratah on 20 December 1997.
In this issue we are presenting are three new sections. Updates and Out-ofs is designed to update stories from previous issues as well as mention other brief items of railway news. In Loco File we will be presenting 'fact sheets' on Australian Locomotives, both modern and historic. Help appear occasionally whenever we need your help in identifying something of railway interest. This section is also open to you so if you have some photos you are having trouble indentifying contact us and we will publish them for you.
Updates and Out-ofs - Updates on stories from previous issues and brief news items.

Queensland Rail - Loco Roster and details from Brad Peadon

Private Railways - BHP Operations around Port Kembla

National Rail - South Australian photos from Daven Walters

Loco File - Notes on the TGR's 610mm G Class

Help - Two steam era photos with very little to identify them.

---
Cover Photo - CLP9 with train 3AP8 at the Keswick Rail Passenger Terminal on 19 August 1997.
---
Finally Brad and I would like to welcome our first two contributors to this ezine; Daven Walters who took the photos in the National Rail section of this issue as well as the cover photo; and David Xuereb who just happened to be nearby with his camera when 8503 fell in a ditch.
---


Back to the cover
---