THE BROKEN HILL PROPRIETARY COMPANY
EAST COAST OPERATIONS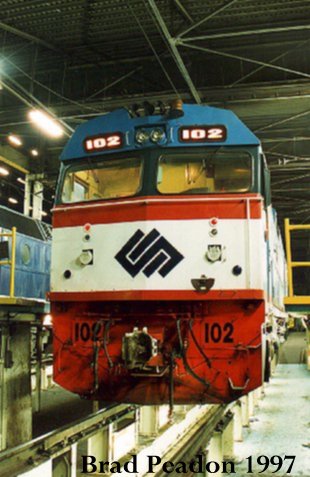 BHP, the big Australian steel manufacturer, operates the biggest privately owned loco fleet in Australia. Locos ranging from mainline units, used on coal and ore haulage, down to small shunting units are in use at four plants in three states. In this edition we will be looking at the loco rosters for the BHP operations along the east coast of Australia. It should be noted that each plant uses its own numbering system to identify their locomotives.

For many years BHP purchased new locos direct from a small number of manufacturers but more recently the company has turned to surplus locomotives from government and mining railways to meet its needs.

The largest part of BHP's fleet can be found around Port Kembla and Wollongong where a number of shunting units are kept busy around the steelworks and mainline units are in constant use hauling coal from BHP's Wongawilli mine to the steelworks.
WOLLONGONG New South Wales
The following locomotives are currently in service around Wollongong:
D16, D17, D19 and D26-33 inclusive - 589kW (790hp) Bo-Bo units built by English Electric at their Queensland plant.

D34 - a 1339kW (1800hp) Co-Co unit built by English Electric at their Queensland plant.

D36, D38-45 inclusive - 692kW (928hp) Bo-Bo units also built by English Electric at their Queensland plant.

D47, D49 and D51 - 1339kW (1795hp) Co-Co units built by English Electric and purchased second hand from the West Australian Government Railways.
Alco unit 103 (formerly NSWGR 4537) leads Alco unit 102
and English Electric unit D51 on an up coal train at West Dapto on 9 August 1997.
The following locomotives are currently at Wollongong but are out of service: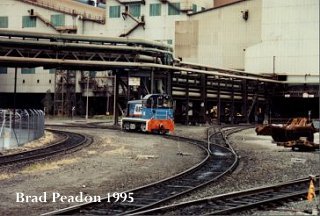 BHP No.16 at Port Kembla, October 1995.
NEWCASTLE New South Wales
Units based in Newcastle are confined to shunting duties within the steel plant and around Morandoo yard.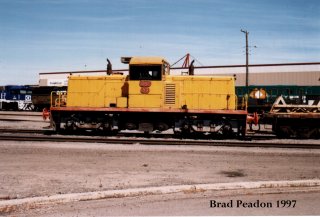 BHP53 shunts Morandoo yard on 1st November 1997.
The following locomotives are currently in service at Newcastle:
48, 49, 51, 53, 55 and 58 - 403kW (540hp) Bo-Bo units built by A. Goninan and Co. under licence from General Electric.
LONG ISLAND Victoria
This BHP plant has the smallest loco roster - just one unit leased from the Victorian Railways.
Y148 - a 447kW (600hp) Bo-Bo unit built by The Clyde Engineering Company.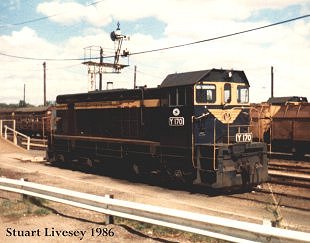 Y170, stabled at Seymour in 1986. The BHP loco, Y148, is a member of the same class as this loco and these locos were unusual for their bogies came from scrapped suburban electric cars.
PRESERVED LOCOS
BHP has a very good record for preserving historically significant locomotives and a number of their diesels have now passed into the hands of enthusiast groups.

D1, D6, D9, D11, D23, D25 and JL3 have all been preserved from the Wollongong plant while 32, 34, 42, 47 and 52 have been preserved from the Newcastle plant.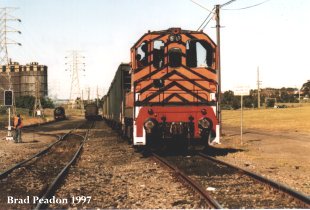 D6 and preserved NSWGR steam loco 5910 (with ex-BHP preserved 0-6-0ST Bronzewing)
sit near Thirlmere with a tour train on 9 August 1997.
---
Article by Stuart Livesey from notes and research by Brad Peadon
---

Back to index page.