NEWS UPDATES AND OUT-OFS
As its name suggests this section will update stories carried in past issues of Australian Motive Power Review as well as carry other brief snippets for the railways around Australia.
UPDATES
Last issue we covered the collision of two coal trains at Beresfield in New South Wales, if you missed it click here to see that story.

While a decision has still not been made regarding the fate of the locomotives they remain in Brambles yard at Carrington in Newcastle and Brad Peadon caught them there on December 20.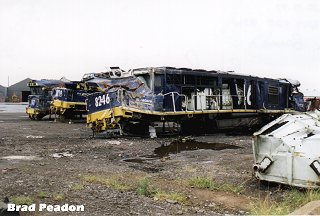 ---
The privatisation of Tasrail was also covered in the last issue. if you missed it click here. The most obvious sign, that new owners are in possession of the system, has been the removal of the AN logo from locos and stock. On December 28 ZB10 and ZB8 were stabled in what remains of Hobart yard.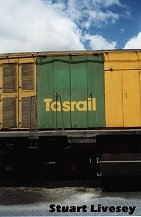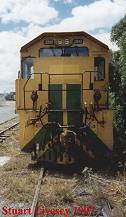 While the purchase of the Tasrail system included 37 locomotives only 28 are operational. These 28 locos comprise:
Z 4
ZA 5
ZB 9
ZC 6
ZP 1
ZR 1
Y 2
It will be interesting to see what the new operators intend doing with this pool of locomotives. While a number have been rebuilt recently all are over 25 years old and many are well beyond their "use by" date. The locos of the ZC class in particular are in poor condition and cannot last much longer.
---
OUT-OFS
Freight Rail
Coal train derailments continue to bother Freight Rail. On January 6, at 0305, BB36 (Baal Bone - Port Kembla coal), hauled by 8503/8505/8604/8606, ran through a set of catchpoints at Enfield South. 8503 travelled a short distance on the ballast before rolling over and 8505 derailed its leading bogie. Clean up operations were carried out through the day, 8505 was rerailed by 1430 and 8503 was upright by 1515. David Xuereb was there to take this photo.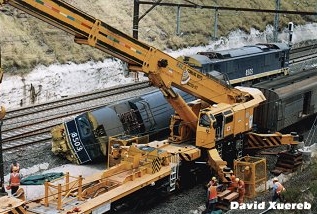 Of passing interest is the spacer wagon used with the crane - it has been built on the underframe of a scrapped 48 class loco.
---
National Rail
National Rail's C class diesels had all been stored at Junee until recently - at least two have now been sent south to Melbourne where, according to some reports, they will be used for shunting purposes.
On 22 February NR threw a party at Port Botany and our intrepid free luncher, Brad Peadon, was there. Despite rumours to the contrary the ceremony was not to celebrate the arrival of Baby Peadon (safe and sound the same day) but to officially name NR56 "Port Botany". Unfortunately the baby interfered with the developing so we have nothing to show you yet. Brad promises to have photos (of the loco - not the baby) ready for the next edition.
Rumours that the New South Wales government is preparing to sell its share of NR are currently circulating; Wisconsin Central seems to be the leading contender.
Queensland Rail
Details have been released of the new loco for QR. It has been designated the 4000 class and 38 of these locos will be built by Clyde Engineering/Walkers Ltd using EMD 12N-710G3B-ES engines coupled to EMD/Siemens traction motors. The 2424kW (3000hp) locos will begin to appear in late 1999.
---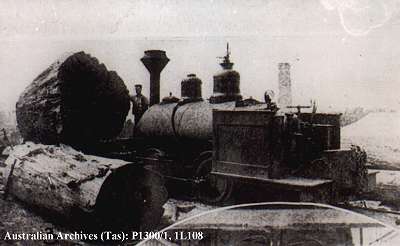 Just as a reminder that trains were not always big, here is Spider an 0-4-0 built by Baldwin in 1890 and used on the 1067mm gauge Marrawah Tramway in north-west Tasmania.
---
---