TASRAIL
NEW LOCOMOTIVES
Australian Transport Network (ATN) took over the operations of Tasrail from 15 November 1997 and have begun to actively seek new business. However, the generally poor condition of Tasrail's loco and rolling stock fleet is proving a stumbling block. To help overcome this problem Wisconsin Central have purchased a number of A and AB class locomotives from Westrail and shipped them to New Zealand for rebuilding.
Ron Surgenor found A1502 and A1503 sitting in Wellington Rail Yards on 8 March 1998.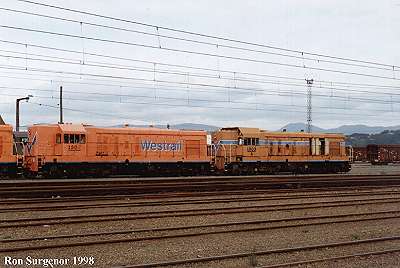 The A class were originally built by Clyde/EMD with the first loco entering service in 1960. These locomotives were originally rated at 1065kW/1425hp for the A class and 1230kW/1650hp for the AA class but the rebuilding is said to include an uprated engine capable of 1491kW/2000hp. The first loco is expected to arrive in Tasmania sometime during July 1998 but it is not yet clear how many will be sent; reports vary from 4 to 10 units. Stuart Dix from the Tasmanian Division of the ARHS reports that 10 locos from the A/AB class (A1502-1510 and AB1533)were shipped to New Zealand and 8 will be sent on to Tasmania. Originally it was intended that these locos would replace some of the ageing English Electric Z/ZA/ZB units currently in service with Tasrail but ATN may now have other plans.
From early May Tasrail will take control of the Emu Bay Railway (click here for that story) and it would appear that the ore trains that originally only operated as far as Burnie wharves will now run right through to the zinc works at Risdon (Hobart). If this is Tasrail's plan then the company will need every locomotive it has.
---
---