AUSTRALIAN MOTIVE POWER REVIEW
No.3
INDEX PAGE
Welcome to the third issue of Australian Motive Power Review, the bimonthly electronic magazine designed to bring you the latest news and photos from the constantly changing Australian railway scene.
As with all magazines, regardless of the form they may take, we are always looking for contributions, both written and photographic so if you want to be present your work to the world email either Bob or Brad .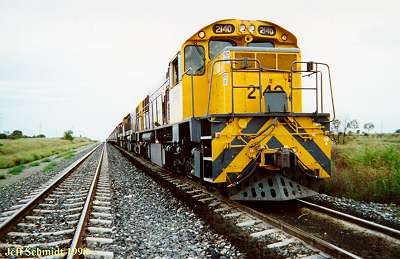 Clyde/EMD built 2140, fitted with Locotrol command equipment, heads a coal train through central Queensland.
---
Our very first editorial
Updates and Out-ofs - Updates on stories from
previous issues and brief news items.
National Rail - Operations in New South Wales
photos from Rolfe Bozier and Brad Peadon
New South Wales - Follow the Rail Transport
Museum's Easter Tour with Brad Peadon
Tasmania - new (old) locomotives for Tasrail
South Australia - Davern Walters takes us to the Port Augusta Workshops
---
Cover Photo - 4401 at Delec photographed by Brad Peadon.
---
Finally Brad and I would like to welcome two more contributors; Rolf Bozier who contributed several photos including the front cover, and Jeff Schmidt from Queensland - expect more in future issues from Jeff on Queensland train operations.
---


Back to the cover
---