QUEENSLAND RAILWAYS
4000 CLASS DIESEL LOCOMOTIVE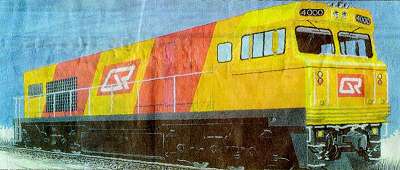 Artist's impression of QR's new 4000 class locomotive.
Queensland Rail's new 4000 class locomotives will be designed by Clyde Engineering, assembled at Walkers Ltd and deliveries will commence during the third quarter of 1999.
These locomotives will be powered by the 'new firing order' 12 cylinder 710G3B EMD engine utilising EMDEC electronic fuel injection for optimum fuel efficiency and emission control. The eletrical traction equipment includes a TA12-8 traction alternator and Siemens 1TB2622 traction motors. The EM2000 microprocessor control system and the Siemens AC traction systems will ensure that continuous adhesion levels of up to 37% are achieved.
This high adhesion AC traction system, which provides much higher tractive effort (pulling power) compared to previous DC traction locomotives, makes this locomotive stand out and will represent a major advancement in narrow gauge locomotive technology. The 4000 class locomotive will be capable of a continuous tractive effort of 460kn at 14.4kph with an adhension ration of 37%. This represents a major increase in adhesion capability over any other QR locomotive, allowing a 2 for 4 replacement of existing diesel electric locomotives and makes this locomotive one of the most powerful narrow gauge diesel electric locomotives operating in the world today.
The 40000 class locomotive will have a single driver's cab fitted with dual operating consoles for maximum operating flexibility. The cabs will be isolated from the locomotive underframe to ensure minimum noise and vibration for driver comfort and will feature Rockwell Integrated Cab Electronics (ICE) screen based instrumentation for maximum operating efficiency. ICE is designed and built by Rockwell and is based on Rockwell's areospace technology, ensuring extremely high levels of reliability are achieved. The ICE screens will be linked with the EM2000, Siemens AC Traction, ENDEC Electronic Fuel Injection and the combined electronic braking/distributed power systems to provide a comprehensive diagnostics and operating history capability for maintenance purposes.
A key optional feature of the 4000 class locomotive is the Clyde designed Radial Steering Bogie. Based on the highly successful EMD Radial Truck, these bogies allow the axles to steer through the curves to ensure minimal wheel flange and track wear - a must for modern narrow gauge locomotive applications. The Radial Steering Bogie also provides additional adhension capability in curves.
4000 Class Technical Details

Model
GT42CU AC
Wheel Arrangement
Co-Co
Power Unit
EMD 12N-710G3B-ES
Main Generator
TA12-8/CA
Traction Motors
EMD/Siemens 1TB2622
Power
2424kW gross
2260kW traction
Tractive Effort
460kn at 14.4kph (continuous)
Power per Driving Axle
377kW
Wheel Diameter
1041mm
Gear Ratio
90:17
Maximum Speed
100kph
Length
22000mm over headstocks
Width
2880mm over cab gutters
Bogie Wheelbase
3800mm
Axle Load
20 tonnes
Total Weight
120 tonnes
Number on Order
38
---
---