NEWS UPDATES & OUT- OFS
UPDATES
The 3 units involved in the Beresfield accident of 1997 (8219, 8246 & 8247) were taken to the Clyde Engineering Kelso workshop during July 1998 for a detailed assessment and in November a decision was announced that all three units will be written off. I understand that Freightcorp has the salvage rights to these wrecks and will take up this option to stop any other operator from buying and rebuilding these units. It is anticipated that some 81 class units will join the Readypower fleet as replacements for these units. More details as they become known.
The expected withdrawal of all electric locomotives in NSW last July did not occur. It appears that a deal was struck between Freightcorp and RAC the review the higher access charges for Electric locomotives and this has allowed many 86 class to continue operating mainly on Western coal traffic. At this time all the 85 class units remain in storage while the 46 class are now all gone except the 5 that escaped the scrappers torch and found a new life in preservation. Click here to read about the 46 class disposals.
The Pelton/Ellalong mine which supplies coal that is carried over the South Maitland Railway was sold during 1998 and trains continue to operate over this line. Freightcorp continue to operate these services with quad 48 class combinations.
OUT - OFS
FREIGHTCORP
PL1 and PL2 have been sighted during November 98 doing push pull trials. The PL class is a conversion of the Freightcorp 48 class. Freightcorp have decided to convert up to 12 of the Mk2 48 class units to PLs. Basically a PL is a low nose 48 class with radio controlled equipment to allow push-pull working. The class designation PL was derived from the words Port Link which are the services that these units will operate. A container train with a PL at each end will operate from the port (Port Botany) to the customers container terminals in suburban Sydney. The rear unit will be driven by radio controlled operation via the leading unit and this operation is expected to reduce the number of staff required to operate these trains.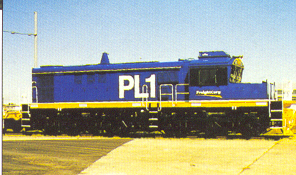 ---
AUSTRALIA SOUTHERN RAILROAD
The new livery for Australia Southern Railroad is similar to that of US parent company Genesee & Wyoming. Several units have now received this livery including CLP13 and DA7.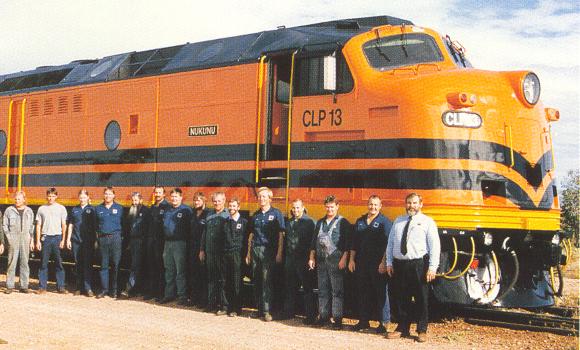 CLP13 and workers from Clyde Engineering at Port Augusta are photographed just after the overhaul of this unit was completed.
---

QUEENSLAND RAILWAYS
QR continue to lead railway technology in Australia. During November 1998 the new Tilt Train commenced services between Brisbane and Rockhampton. QR have now announced plans for 2 more 10 car Tilt Trains to be diesel powered. These sets will operate to Cairns. QR will soon begin to receive delivery of the 4000 class. These units will be the first narrow gauge units in the world to use AC traction. The 4000 class are being built by Walkers of Maryborough.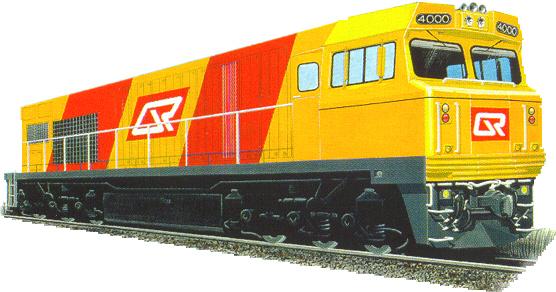 An artist impression of the 4000 class AC Locomotive.
---