46 CLASS
COMPILED BY BRAD PEADON
| | | | | | |
| --- | --- | --- | --- | --- | --- |
| UNIT | SERVICE | WITHDRAWN | SCRAPPED | LIVERIES | NOTES |
| 4601 | 26-6-56 | 17-5-94 | N/A | | (f) |
| 4602 | 19-7-56 | 15-6-96 | N/A | | (j) |
| 4603 | 10-9-56 | 6-7-94 | 21-10-98 | | |
| 4604 | 10-9-56 | 16-1-96 | 23-8-98 | | (a) |
| 4605 | 28-9-56 | 22-2-94 | 20-10-98 | | |
| 4606 | 28-9-56 | 15-1-96 | | R, FR | (b) |
| 4607 | 19-10-56 | 17-1-96 | 24-6-98 | C, FR | |
| 4608 | 12-10-56 | 17-1-96 | 7-10-98 | C | |
| 4609 | 19-10-56 | 16-1-96 | 26-8-98 | C | (e) |
| 4610 | 26-10-56 | 15-1-96 | 28-8-98 | C | |
| 4611 | 19-11-56 | 17-1-96 | 10-9-98 | C | |
| 4612 | 3-1-57 | 15-1-96 | 4-7-98 | C, FR | |
| 4613 | 27-12-56 | 17-1-96 | 7-8-98 | C | |
| 4614 | 28-12-56 | 17-1-96 | 17-7-98 | R, C | |
| 4615 | 21-1-57 | 17-1-96 | N/A | C, FR | (i) |
| 4616 | 7-3-57 | 4-95 | 14-9-98 | C | |
| 4617 | 28-1-57 | 5-3-94 | 5-11-98 | C | |
| 4618 | 4-3-57 | 21-12-98 | | C | (g) |
| 4619 | 17-3-57 | 27-5-92 | | - | |
| 4620 | 27-3-57 | 18-1-77 | | - | (c) |
| 4621 | 16-4-57 | 16-1-96 | 26-7-98 | C | |
| 4622 | 8-4-57 | 6-95 | 14-9-98 | - | |
| 4623 | 1-5-57 | 3-95 | 21-10-98 | C | |
| 4624 | 21-5-57 | 14-5-94 | 24-10-98 | C, FR | (k) |
| 4625 | 5-6-57 | 1-96 | 14-9-98 | C | |
| 4626 | 29-5-57 | 17-1-96 | 10-7-98 | R, C | |
| 4627 | 7-6-57 | 17-1-96 | | C, FR | |
| 4628 | 6-7-57 | 15-1-96 | 26-6-98 | C | |
| 4629 | 20-7-57 | 15-1-96 | | C | |
| 4630 | 17-8-57 | 15-1-96 | 24-7-98 | C, FR | |
| 4631 | 21-10-57 | 10-1-91 | | - | |
| 4632 | 2-11-57 | 30-7-91 | | C | |
| 4633 | 9-11-57 | 30-7-91 | | - | |
| 4634 | 13-1-58 | 30-7-94 | | - | |
| 4635 | 3-4-58 | 12-2-91 | | R, C | (h) |
| 4636 | 19-12-58 | 8-2-94 | | C | |
| 4637 | 19-12-58 | 12-2-91 | | C | |
| 4638 | 19-12-58 | 16-1-96 | N/A | C | (f) |
| 4639 | 1-4-59 | 15-1-96 | 14-9-98 | C, RT | |
| 4640 | 1-4-59 | 18-10-90 | | C | |
All 46 class entered service in the Tuscan with red lining livery (Metro-Vick Red) and were repainted to the newer colour scheme of Indian red from October 1967. These repaints were carried out at Elstons Carriage Works, Eveleigh (Redfern). From 1984 a large number of the class underwent rewiring and major repairs at Cardiff Workshops and repainting to the Candy livery. The above list shows the other liveries carried by each member of the class.
R= Reverse Tuscan with yellow cab and wide yellow bar down sides.
C= Candy - Red with yellow , orange and white stripes with white cab.
RT= Red Terror - Red with white stripe above foot plate.
FR= Freightrail Blue - Blue with white and yellow strip above the foot plate.
The yellow forming into a triangle on both cab ends.
NOTES
(a) -Tuscan livery with single, wider whisker on front and no side stripes. Noted during 80's
(b) -First 46 class in Freightrail Blue livery.
(c) -Withdrawn after the Granville Accident on 18-1-77, subsequently scrapped.
(d) -Only 46 class to wear the Red Terror livery.
(e) -First unit in Candy livery.
(f) -Preserved by the Rail Transport Museum.
(g) -First unit in the Indian Red with yellow stripes and whiskers livery. October 1967
(h) -Only 46 class to go to Brisbane. Used to transport a set of bogies for overhaul.
(i) -Preserved by Sydney Electric Train Society.
(j) -Preserved by Dorrigo Steam Railway and Museum.
(k) -Preserved by Hunter Valley Railway Trust.
Scrapping dates have been given for those cut up at Sims Metal, Mascot. These are considered to be the day that the body was cut away from the chassis. Records of other scrapping dates could not be found but we would like to hear from anyone who may have these dates. More details on the Mascot scrapings can be found in Under The Wires,
Railway Digest and The Railway News.
---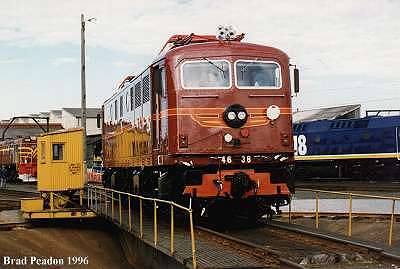 4638 was restored to the original livery for the Delec Open Day.
This unit is now preserved by the N.S.W. Rail Transport Museum.
---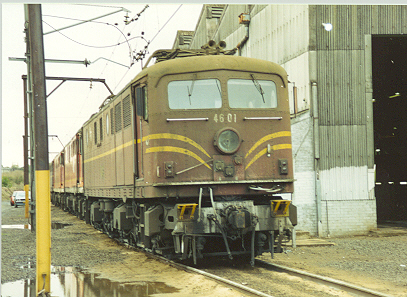 4601 in the 1967 revised livery of Indian red with Yellow whiskers

parked alongside the running shed at Delec on 20-6-93.
Photo by Brad Peadon
---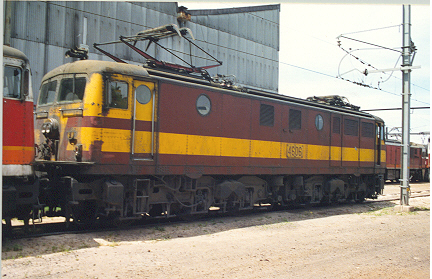 4606 in the Reverse Yellow livery at Delec in November 1991.

Photo by Brad Peadon
---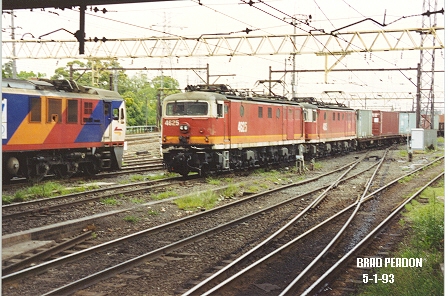 4625 heads a freight through Flemington.
---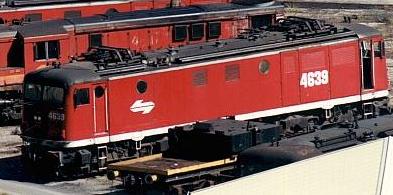 4639 was the only member of the class to wear the Red Terror Livery.

Photographed at Lithgow by David Johnson.
---
4612 in the Freightrail Blue livery passes Clifton on a coal train.
---
Thanks to David Xuereb, David Kirkland and Peter Cokley for their help in compiling this list. We hope to do similar lists for different classes of locomotives around Australia. If you would like to help with this project please contact Brad .