4401
---
The longest serving
diesel in NSWR history
---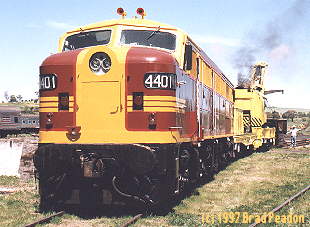 On Monday 26th October 1998 4401 was delivered to the Large Erecting Shop at Eveleigh Workshops to join steam locomotive 3801. 4401 had served the New South Wales Railways for 41 years and 3 months. Whilst withdrawn from active duty in 1994 the unit was kept initially as a restoration project for SRA apprentices and was repainted at Chullora Workshops just prior to the Delec Open Day in 1996. It seems doubtful that any other diesel will ever remain in service as long as 4401 .
---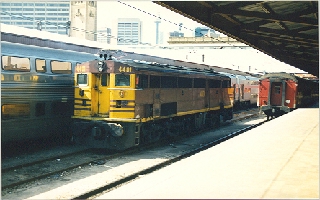 4401 in reverse yellow livery at Sydney Terminal
---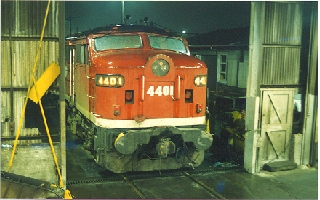 4401 in red terror livery at Delec
---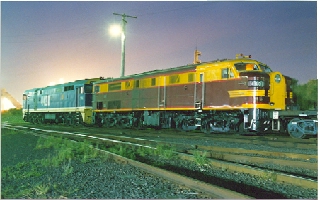 4401 at Botany on a trip train
---
4401 now hauls tourist trains for 3801 Ltd. Some enthusiasts consider 4401 to be the diesel equivalent to 3801. It would seem appropriate for both these great locomotives to operate along side each other. We can expect 4401 to continue operating over the New South Wales Rail system for many years to come.
---